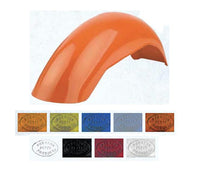 Polisport
Polisport Preston Petty MX Rear Fenders
Each fender will still have the Preston Petty Guaranteed Unbreakable 1 year warranty just like Preston offered. Each fender will also have the oval Preston Petty Product decal on the fender and an extra in the box. Each fender will have the same original wording and logo as Preston had; MX FRONT and his Preston Petty Product oval logo. The one major thing Preston has instilled in us is that Top quality should be the main focus. Those are his words that we will live by!.
PARTS INCLUDED.
1 Preston Petty MX Front or Rear Fender.
1 Preston Petty Decal.
Packed in plastic bag with headcard.
Weight MX Front Fender: 840 g / 1.85 lb.
Weight MX Rear Fender: 496 g / 1.09 lb.



Please Note: ***Please Note: Item requires 2-5 business days to process before it ships and you receive tracking information***
Note: